Welcome to 1997, Guru!
Well, I did it. I finally got myself a cell phone. The Nokia PM-6225, shown here.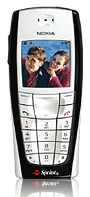 My wife has had a cell phone for about 4 years, but until recently, I didn't want one. I just need to get with the times, I guess. I got a really good deal with the discount through my work and my wife and I can call each other for free, so it just makes sense for our family. If any of you want to call me, my number is 614-... SIKE! I'm not that dumb. Don't you wish that you could have my number?
I can't publish that. The ladies would be blowing that thing up. You know how it is. Hate the game, not the player!