Harold and Kumar
On Monday,
Lo
and I watched Harold and Kumar Go To White Castle. I had heard that it was funny, so I decided to check it out.
While I laughed throughout the movie, the best part - far and away - were the scenes with and about Neil Patrick Harris. He was a riot.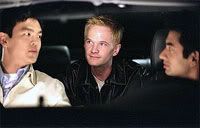 Harold:
Neil, you wouldn't happen to know how to get on the highway from here, would you?
Neil Patrick Harris:
Dude, I don't even know where the f**k I am right now. I was at this party earlier tonight and some guy hooked me up with this incredible "X" - next thing I know I'm being thrown out of a moving car. I've been trippin' balls ever since.
Kumar:
That's crazy, dude. We've been having a pretty crazy, night, too. We've just been driving around looking for White Castle but we keep getting sidetracked.
Neil Patrick Harris:
Yeah, dude, you fascinate me. Forget White Castle, let's go get some p*ssy!
Harold:
Huh?
Neil Patrick Harris:
It's a f**king sausage fest in here, bros. Let's get some poontang, THEN we'll go to White Castle.
Kumar:
No, Neil, you don't understand. We've been craving these burgers all night.
Neil Patrick Harris:
Yeah, I've been craving burgers, too. Furburgers. Come on, dudes, let's pick up some trim at a strip club. The Doogie line always works on strippers.
[sings]
Neil Patrick Harris:
Lapdance...
Kumar:
[pause]
There's a gas station. I'm gonaa see if I can get some directions.
Neil Patrick Harris:
You don't need dir- gah! Hurry up, dudes, hurry up! I'm losing wood.
Neil then proceeds to lick the seat and grind his hips against it. He then steals the car.
When they report it later, the cop chastises them and says, "Hey, NPH wouldn't do that, all right?"
When Harold and Kumar meet up with Neil later, he pays them back by buying their meal. When they protest about how stealing the car messed up their night, Neil replies, "Yeah, it was a dick move on my part. That's why I'm paying for your meal." He also gives them $200.00 to clean up where he "made some love stains in the back seat."
It was crazy comedy gold! There is also another H & K moving coming out in 2007, Harold and Kumar go to Amsterdam, picking up right where this one left off. Just like this one, I may not see it until 2 years after its release, but it will probably be worth a few laughs.