Delicious
Oh, the Steeler victory today was so delicious. Not only does it keep us from having a losing record this year (we finished 8-8), it also made the Bengals finish 8-8 and made them miss the playoffs.
The game went to over time and on the third play, Roethlisberger his Santonio Holmes for a 67 yard touchdown catch that won the game. After the play, Santonio (an Ohio State alum) threw up an O-H to the Cincinnati crowd.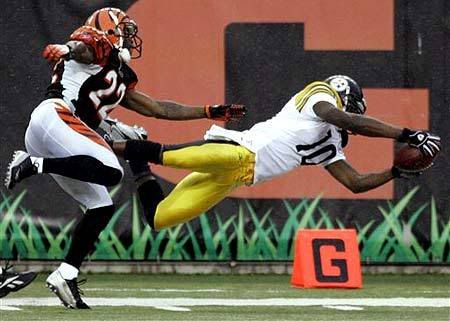 This game won me a lunch, too. However, the person who was pulling for Cincinnati doesn't have to pay up. She just transferred the lunch that the Browns fan who she beat already owed her. It doesn't make me too sad... I still get a good meal for free!
I'm really glad that the Steelers didn't go from Super Bowl champs to having a losing record! 8-8 may be like kissing your sister, but at least it isn't like licking her butt!