Soylent Green is People!
I finally watched the classic movie Soylent Green yesterday morning. It was the first movie that I watched using the new movie streaming service from Netflix that was added for no extra charge to my account. I had already known the premise of the movie, but felt like I was missing something having never seen the movie, so I went ahead and knocked it out.
It was okay, especially since I already knew the ending. I do think, however, that Charleton Heston is not a great looking man. I just don't understand how he was ever a heartthrob.
Yesterday was my birthday. I turned the big 3-Oh (born on 7-7-77, lucky me!), and had a pretty good day. I got some presents, some cash, and an IOU from
G-Man
and
Trin
for the 7th Harry Potter book when it comes out in two weeks. I just hope they aren't bringing Harry's death to my doorstep (or the death of any of the other two main kid characters either)!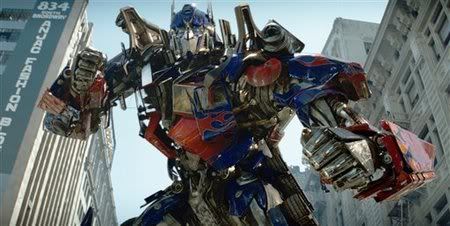 G also took me to see Transformers on Monday and Tuesday as an additional part of the gift. That's right. I said Monday AND Tuesday. Let me explain.
We went on Monday evening to the first showing of the movie. Good times. We were all set. We got good seats and got to see about 40 minutes of the movie. Just as it was starting to get good and action packed... BOOM! Movie shuts off, lights flip on.
While we are going, "what the deuce?", a guy finally comes in and tells us that there is a blown transformer (no lie... the irony!) and that power is out in the entire area. They kicked us out and gave us passes to come back. So, we had to set it up so that we came back the next night (Tuesday) to watch it again. At least it was good!
Finally, I want to leave you with this thought from Transformers, Megan Fox is hot! I was hip to her leading up to the movie because she has been in a lot of magazines recently and I definitely noticed! Normally, I tend to lean toward blondes (like a Rachel Taylor - also in Transformers, or
the lovely Lo
), but Ms Fox definitely caught my attention. It might be the blue eyes against the dark hair, but whatever it is, she is pretty fine.
Click Thumbnail for Full-Sized Image
I may still have some piggish qualities in me, I can't help it! ;-)